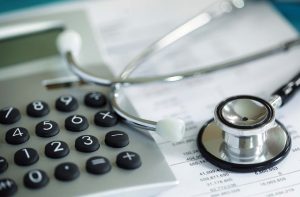 It happens that due to ill health or ill fortune, an employee may be on sick leave for a longer than usual time. First they exhaust the normal paid sick leave provisions which are usually in the range of two working weeks per annum. Then, if it is a serious illness, they apply for an extended sick leave. If the company is large enough to afford paid extended sick leave and the employee supplies the necessary medical certificates, they apply for that.  This is expensive for the employer and they have to not only pay someone who is not working, but also someone to replace them. If the company cannot afford payment during an extended leave period, the employee applies for unpaid extended sick leave and sends in the successive medical certificates as necessary.
However, there are instances, such as with certain types of organ failure, or blood infections when the length of recuperation is uncertain.
The situation will vary from organization to organization. Some of the larger and more profitable organizations can afford to keep an employee's position open, possibly filled with a temporary or short-term contract employee for longer periods. Many, no matter how much goodwill they have towards the ill person, simply cannot do so.
Employees may be lawfully terminated where their illness prevents them from performing their job as "one of the primary conditions of a person's employment is the ability of that person to do the work for which they are employed. Not to be able to do so does what the Tribunals and Courts refer to as 'going to the core' of the purpose for which they were hired, and makes the purpose no longer tenable.".
Things to consider:
Does the medical condition prevent the employee from performing the job?
Does the medical condition prevent the employee from attending work regularly i.e. is there a high level of absenteeism?
Does the medical condition place the employee or others in danger?
Is there the likelihood of improvement within a reasonable timeframe?
Are there any alternative positions available that the employee may be suited to?
Is the illness covered by NIS or by medical retirement provisions?
In terms of a procedure, in ESD No. 7 of 1995 between Oilfield Workers Trade Union and the Trinidad and Tobago Electricity Commission, the Industrial Court declined to "prescribe any particular procedure as the 'correct' one for an employer to follow in bringing about the retirement of a worker on grounds of ill health …. the Court's duty is to ensure that any course (the procedure) chosen by the employer is fair and reasonable to the worker" not whether it should or should not be granted.
This is always a difficult decision for both parties, more so for the employee obviously and should be handled in as humane a manner as possible.